Featured Item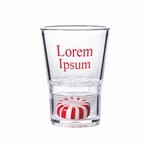 2 Oz. Flav-A-Shot™ Infusion Acrylic Sh...
Infusion acrylic shot glass two piece 2 Oz. acrylic shot glass. Place an edible condiment (such as candy, fruit, gum, licorice, chocolate, etc.) into the removable bottle compartment of the unit. Reas...
$2.70 - $3.42
Trinket Depot provides a full spectrum of promotional products and apparel that enhance our clients brand image, competitive presence, and exposure.
Whether you're looking for that perfect item or a complete branding and continuity program, we consistently provide innovative promotional solutions that meet budget requirements. We cultivate long-lasting client relationships by ensuring satisfaction with our comprehensive product selection, valuable creative input, fresh ideas, and expedient product delivery.
Contact us at client services or toll free at 877.243.1606 for the latest in promotional products and trends.
Signature Showrooms